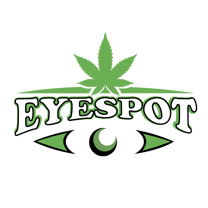 Eyes on Quality, Spot On Service
Your premier destination for all things cannabis.
A sanctuary for the discerning cannabis consumer.
We believe that everyone should have the freedom to explore the myriad benefits of cannabis and its derivatives, and that's why Eyespot was born.

Our mission is simple yet profound: to offer unparalleled service and dependable access to a curated selection of top-tier cannabis products. Whether you're shopping online, visiting our state-of-the-art store, or enjoying our discreet home delivery service, Eyespot promises an experience that goes beyond the transactional.

We're not just purveyors of cannabis; we're connoisseurs. We sift through the noise to bring you the crème de la crème of strains, edibles, tinctures, and more. From timeless classics to innovative products that push the boundaries of the industry, Eyespot is your one-stop shop for quality, variety, and sophistication.

Our team is composed of passionate, knowledgeable professionals who are committed to elevating the cannabis experience. We're here to guide you, educate you, and celebrate the incredible world of cannabis with you. Whether you're a curious newcomer or a seasoned "cannaseur," we aim to make every interaction with Eyespot not just a purchase, but a memorable journey.

In a rapidly evolving landscape, where regulations and perceptions are as fluid as they are unpredictable, Eyespot remains a constant. To maintain the integrity of our service and the privacy of our customers, Eyespot is currently an invite-only establishment.

Join us in redefining cannabis culture, one experience at a time. At Eyespot, it's not just about cannabis; it's about community, quality, and a shared love for this remarkable plant.
For use only by adults 21 years of age and older. Keep out of reach of children and pets. In case of accidental ingestion or overconsumption, contact the Poison Center hotline 1-800-222-1222 or call 9-1-1. Please consume responsibly.
Cannabis is not recommend for use by persons who are pregnant or nursing.
Concerned about your cannabis use? Contact the New York State HOPELine by texting"HopeNY", calling 1-877-8-HOPENY, or visiting oasas.ny.gov/HOPELine.